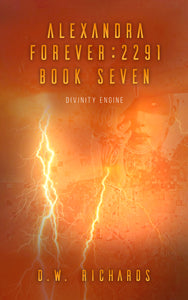 Alexandra Forever
Alexandra Forever 2291 — Book Seven: Divinity Engine (epub)
Regular price
$1.69
$1.69
 Is the clockwork machine of the Annunaki breaking down? Will Fiddlehead's prediction come to fruition? Will Catamore burn?

Dr. Rising senses Alexandra closing in as the chase continues within the bowls of Catamore. Victory, however, is not always about winning.

Sebastian's catches a shadowy glimpse of the vast scope of the plans that he finds himself part of, his role, and the doctor's true nature as she stokes the unbridled madness of the planetary AI into action.

An unmovable object collides with an unstoppable force when Alexandra and Dr. Rising faceoff in skies above inner Catamore.
---
Share this Product
---
More from this collection