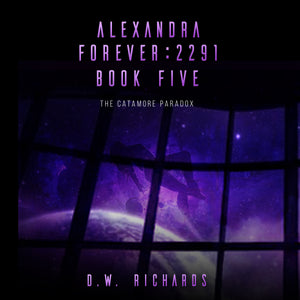 Alexandra Forever
Audiobook (mp3) ~ Alexandra Forever 2291 — Book Five: The Catamore Paradox
Regular price
$15.00
$0.00
Things start to unravel for our intrepid heroines.
The space opera saga continues with Dr. Rising's extradition to the Jader penitentiary on Catamore going horribly wrong, resulting in unimaginably bleak consequences.

The Goddess Alexandra, knowing the Jader are no match for the villainous doctor, makes plans to take matters into her own hands, but is temporarily distracted by the need to rescue Lieutenant Jane Parker from nefarious elements which are possibly within the BGO itself. During her rescue, Jane learns shocking revelations about the coven's understanding of the true nature of the universe and humanity's place in it.

Unchecked, Dr. Rising, in her efforts to crack open the secrets of Catamore, leaves an apocalyptical wake as she races to keep one step ahead of the Goddess.
---
Share this Product
---
More from this collection