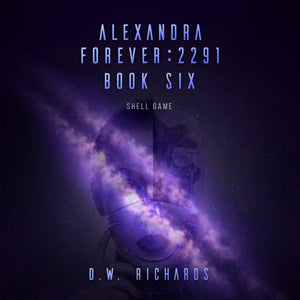 Alexandra Forever
Audiobook (mp3) ~ Alexandra Forever 2291 — Book Six: Shell Game
Regular price
$15.00
$0.00
Collateral damage escalates as the Goddess's pursuit of the lethal Dr. Rising whittles down the survivors.

Predictably, the penitentiary on Catamore is no match for Dr. Rising. All but the patsy, Sebastian, who she had lined up for herself, are in immediate danger. Is the future for Sebastian equally uncertain? The doctor's single-minded quest takes a fantastical turn at the archaeological dig that only she could have foreseen, and the Goddess has no choice but to follow.

As Alexandra tracks Ezera through the wake of destruction at the Catamore base, she accumulates a ragtag posse; two adventure seeking robots and the doctor's own daughter, Lisa. Lisa promises that she's not out for revenge but is she telling the truth? Could she be blamed if she was? Where are they being led to and what awaits them?
---
Share this Product
---
More from this collection