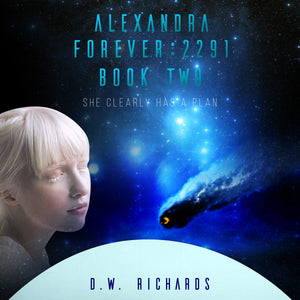 Alexandra Forever
Audiobook (mp3) ~ Alexandra Forever 2291 — Book Two: She Clearly Has a Plan
Regular price
$15.00
$15.00
The plans of fallen priestess, Dr. Ezera Rising, begin to unfold. She has seemingly put herself on an intercept course with the Goddess. Why?
The sci if adventure continues where book one left off. Living goddess, Alexandra, having rescued, potentially after stranding, the priestess initiate, Fiddlehead, from the doomed asteroid base, must now contend with pirate assailants.  
This seems to be all part of the plan for Dr. Ezera Rising, fallen priestess of the coven. A plan that the rest of her sisterhood are desperate to figure out. They are not alone in their concerns over the doctor's agenda, for even her own patrons, the Jared, question her loyalty.  
What is she truly up to?
The stakes are taken up a notch in this science fantasy, as Alexandra and Dr. Rising are in an action-packed intercept course to whatever awaits on the haunted Invictus.
---
Share this Product
---
More from this collection